So, one of my best friends is pregnant with her second baby (I can hardly believe it-I know she wants three kids, but her daughter isn't one yet!! Nonetheless, she's a fabulous mom and I'm thrilled for her.) and with her first, little Miss Micah (who is the cutest thing ever) had a nursery based on the original Mario game. Jessica and her husband chose that as a nursery theme so that they could use the nursery for the next baby/babies to come along, whether they were boys or girls. I made a Mario themed cross stitch for Micah's room when she was in the Mario room, and now she's moving up into her "big girl" room, which is going to be Zelda themed (my friends are dorks...we all are...what can I say?), I did a quick internet search and found this AMAZING woman who has all sorts of geeky inspired patterns (not just for cross stitch), and she has an AMAZING Zelda pattern that I've been working on for Miss Micah's new bedroom as of late...
Don't worry, as soon as we have a name and confirmation of boy/girl on the second baby, I'll get started on something for them too; but I needed something to occupy my time until then.
My only problem is that it's a monochrome pattern-At least, that's what this lady refers to this pattern as; which I think just means it's done in one color and one color only, and frankly, I'M SO TIRED OF PINK and I'm not even halfway done yet!! (Anyone else ever do a monochrome pattern and have this issue?)
But it's gonna be cute nonetheless.
So without further aidu; here's Zelda...or the bottom half of her, anyway: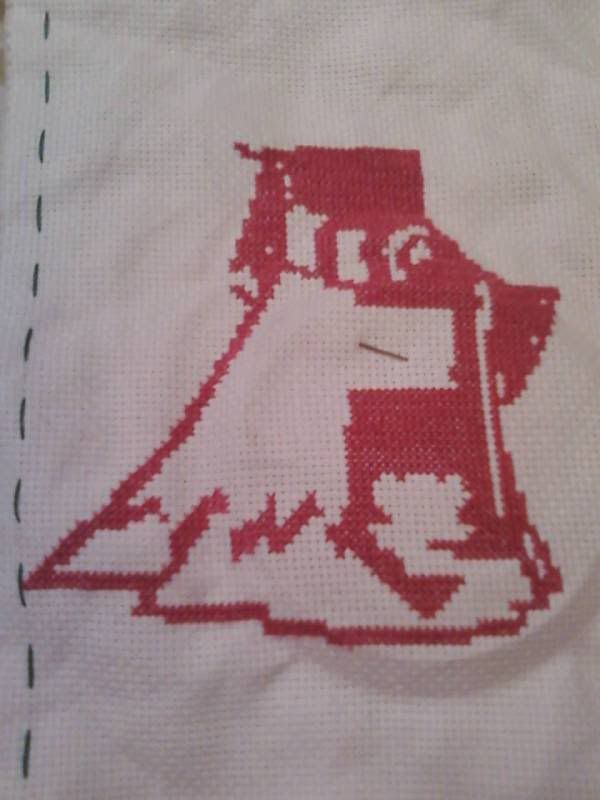 And here's the pattern: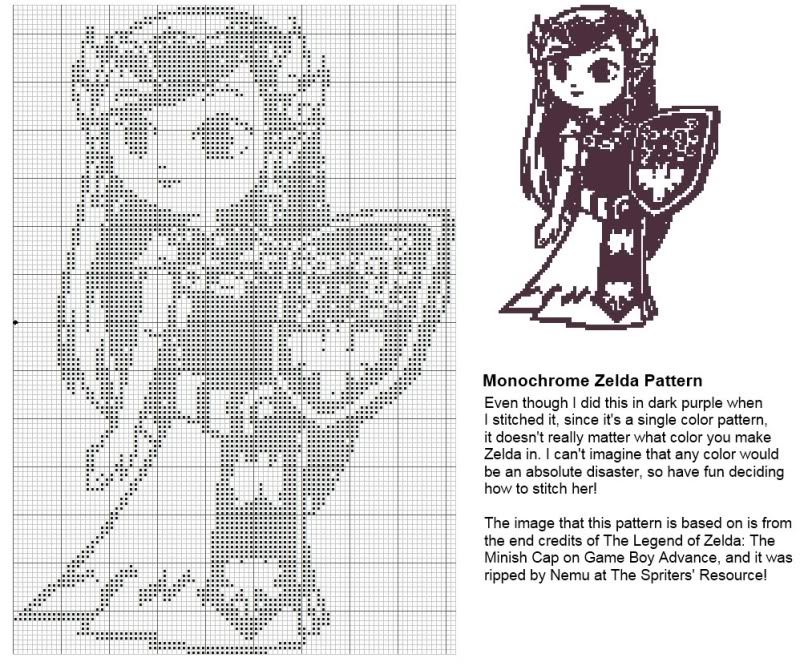 And this is the website where I found it and other nifty geeky patterns to print FOR FREE:
http://dorkstitch.blogspot.com/search?updated-min=2012-01-01T00:00:00-06:00&updated-max=2013-01-01T00:00:00-06:00&max-results=14
It's her blog, so be sure to use the tags if there's something you're specifically looking for-That's how I found the Zelda pattern. :)
(Probably gonna be cross posted too....)
Current Mood:
chipper
Current Music: Nerd Anthem by Marian Call